The object of repairing rotator cuff tears is to achieve the reattachment of the tissue to the footprint from where it became detached. Bone anchor constructs, suture configurations and various knot configurations have been directed at and continue to chase stronger and stronger constructs. However, the variable which dictates the forces needed to hold the tissue in place is the tendon itself- often weakened and frayed.
So, the surgeon must determine the size of the tear and decide upon the number of anchors and tendon fixation points to achieve the best outcomes. Simply increasing suture strength, knot strength, pullout strength does not address the need to stabilize the surface area contact points. Ziptek's surgical button increases surface contact area and has a self-locking mechanism built into the surgical button or capture.
The differences in suture holding  technology between the main knotless devices on the market which crimp or crush the suture and use friction to hold the suture in place and

technology which uses an engineered suture/capture construct, which allows for obviating any concerns for suture slippage which has been shown in some devices, and since its compressive forces on tissue are through a surgical button which stabilizes the tissue with greater surface area than a knot or a linear suture, concerns about the abrasive nature of braided UHMWPE on the tissue are lessened.

– the suture/capture construct aspect, has been engineered to allow the suture to travel through its entrance aperture with low "Go" forces- the upper limit is 7 lbs or about 34 newtons. When the suture is pulled in the reverse direction, the exit aperture prevents the suture from pulling back through in the reverse direction with higher "No-Go" forces. Finite Element Analysis engineering have exceeded 5:1 ratios of the "NO-GO" to "GO" forces and first generation prototypes are bench testing at ratios exceeding 2:1. With 2 suture captures(each6.5mm in diameter) per suture total, No-go forces, when tested in parallel approach 170 Newtons.
Example of a rotator cuff repair using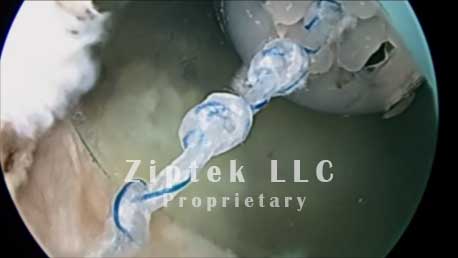 A

capture being pushed down the suture to engage the rotator cuff tendon using a

capture pusher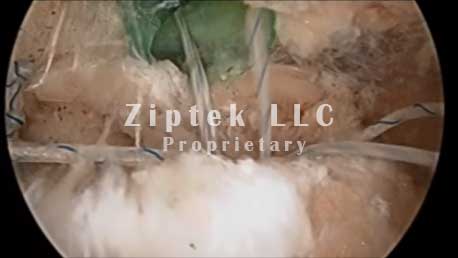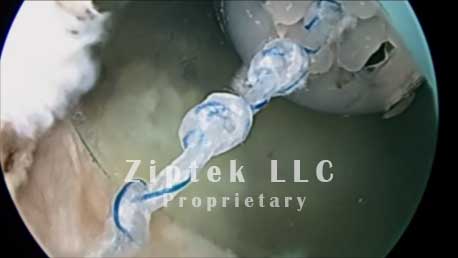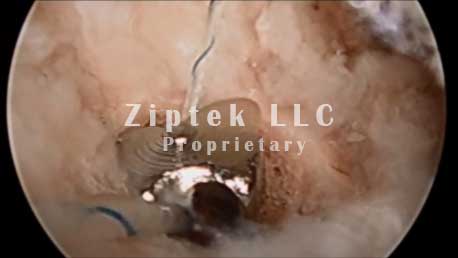 technology for double row rotator cuff repair is shown below in a cadvaer model illustrating how the suture capture can be placed on the bone side after shuttling the suture through the screw.
Low profile ZipE absorbable captures shown in double parallel configuration in rotator cuff repair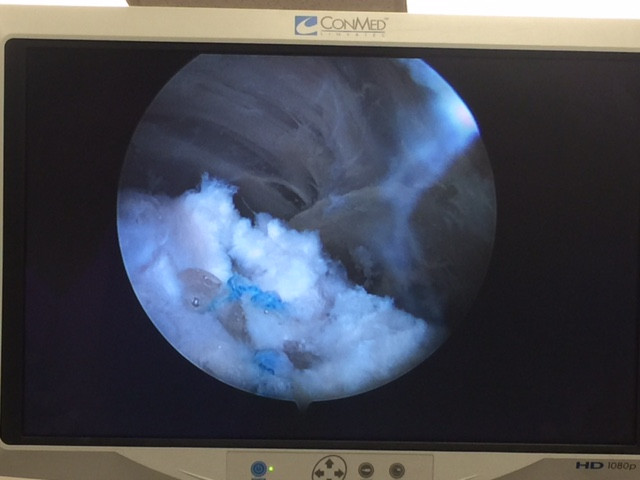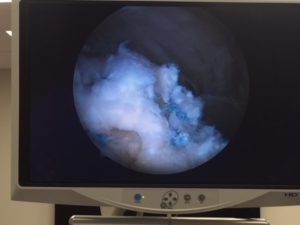 ---
protects rotator cuff repairs from tendon impingement with its low profile resorbable button
---
---
Arthroscopic rotator cuff repair on cadaver rotator cuff repair
---
Dynamic Image Capture comparison with Parallel
* colors towards red equal higher pressures
---
Dynamic Imaging Capture horizontal mattress
* colors towards red equal higher pressures
---