The differences in technology between the main knotless devices on the market which crimp or crush the suture and use friction to hold the suture in place and

technology which uses an engineered suture/capture construct allow for obviating any concerns for suture slippage which has been shown in some devices.


– the suture/capture construct aspect, has been engineered to allow the suture to travel through its entrance aperture with low "Go" forces- the upper limit is 7 lbs or about 34 newtons. When the suture is pulled in the reverse direction, the exit aperture prevents the suture from pulling back through with high "No-Go" forces. Finite Element Analysis engineers have exceeded 5:1 ratios of the "NO-GO" to "GO" forces and our initial device have ratios around 2.5:1 when 2 suture captures per suture use din parallel are used and total forces approach 170 newtons.

Example of a rotator cuff repair using

A capture being pushed down the suture to engage the rotator cuff tendon
using a capture pusher
Suture beads with an adhesive performed in a silicone mold.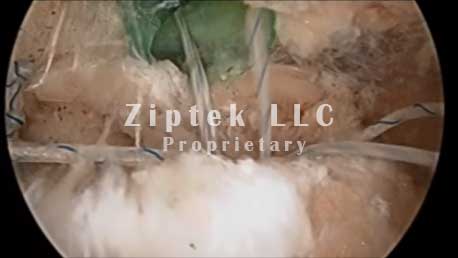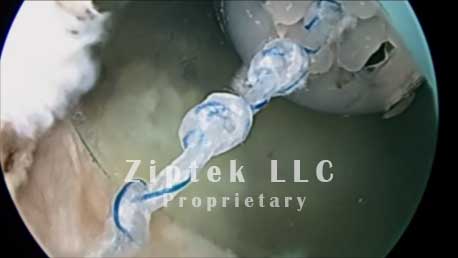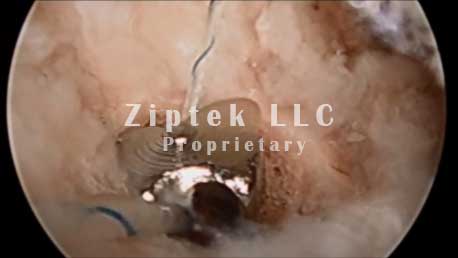 technology for double row rotator cuff repair is shown below in a cadvaer model illustrating how the suture capture can be placed on the bone side after shuttling the suture through the screw.