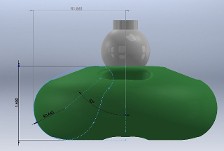 LLC is accelerating its strategy to enter the knotless soft-tissue repair solutions market, initially with a rotator cuff repair device. We take pride in offering our patent protected and patent pending

knotless tissue repair and attachment solution devices for our surgeon's needs which should be available in 2015.

founder has over 18 years of continued intellectual property experience and

's backbone is based on 3 issued patents.

LLC has multiple pending patents, and recently has added two additional patents in the fall of 2014 and has had a recent review of its latest PCT application to WIPO whose search has deemed 50 percent of this latest application patentable-which expands its useage, finalizes engineering and allow it to go Global with protection on multiple methods, which include: inserting self-locking surgical buttons with a surgical button/capture pusher, molding techniques for placing a protuberance on a suture using an adhesive set at ambient temperature using entrance and exit capture configuration geometry for the protuberance mold settings and a method for shuttling a suture through a set bone anchor in bone.

patent pending devices includes its suture capture, its screw, its screw driver capture pusher and its 2nd generation suture beads. This technology should greatly simplify tissue repair techniques when minimally invasive surgery is performed.
The basic premise with

 surgical button/captures is to afford greater surface area contact for tissue repair and attachment that employs a self-locking surgical button and negates the need for tying a knot in minimally invasive surgery.